Birthday SMS in Marathi
Tujha vaadhdivas aamchyasaathi janu
Parvanich aste
Ooli aso va suki aso, party tar
Tharlelich aste!
Mag kadhi karayachi party?
Vadhdivasachya Shubheccha.
Navya varshacha pratyek divas
Sukh samruddhicha saatha aso
Ishwar jewha hi aanand vaatel
Tyaat tumcha ek motha vaata aso
Vadhdivsachya shubheccha.
Happy Birthday to you
Tujha me, maajhi tu
May God bless you
Chal daaruche glasses bharu.
Marathi Birthday Wishes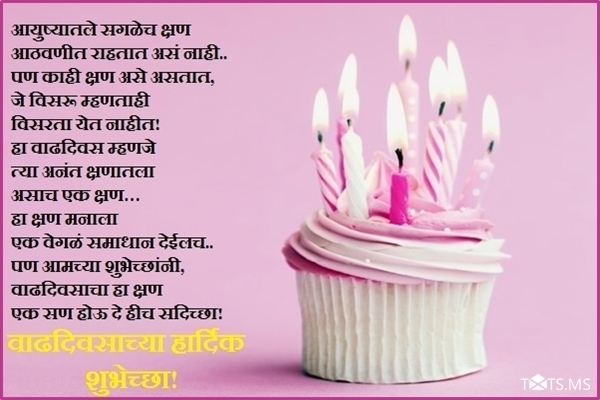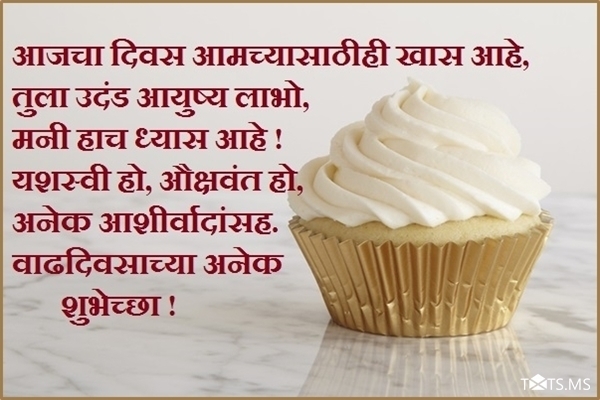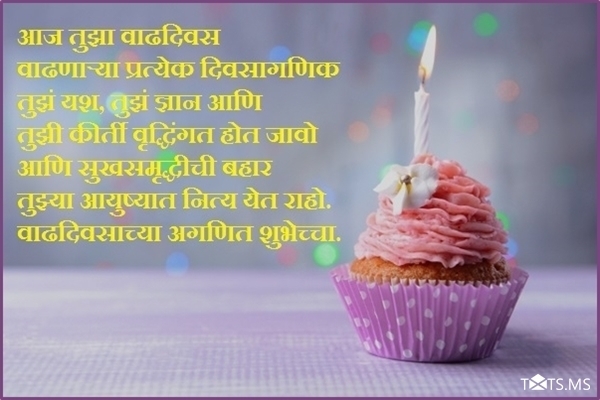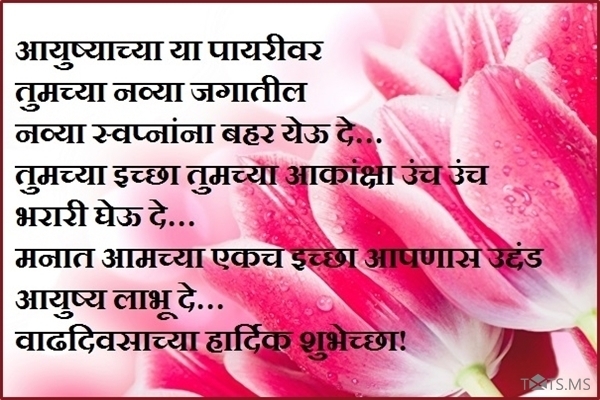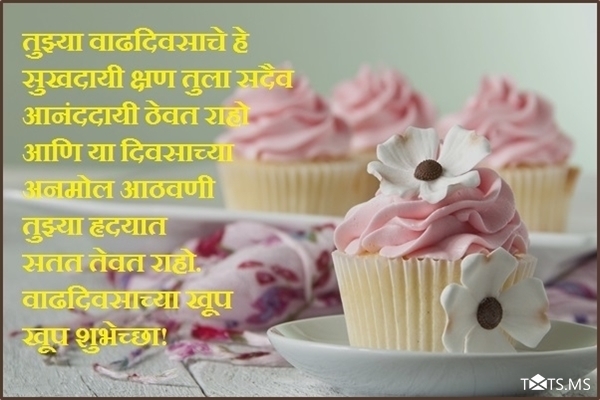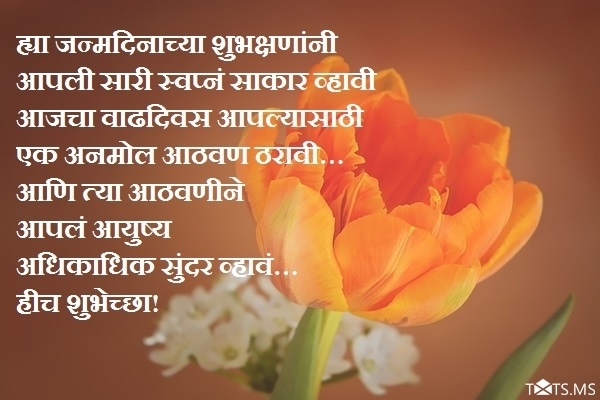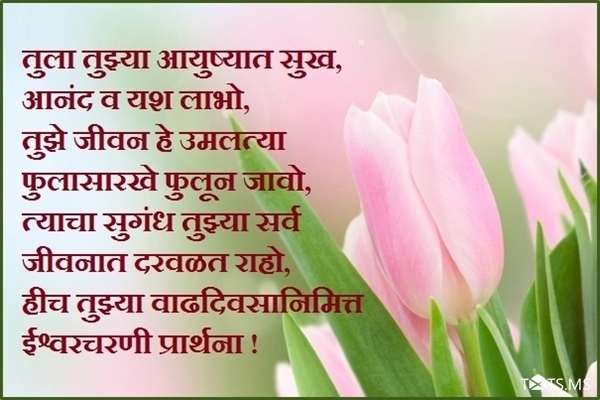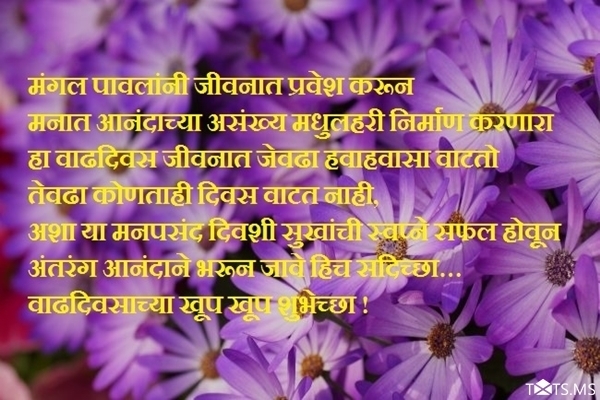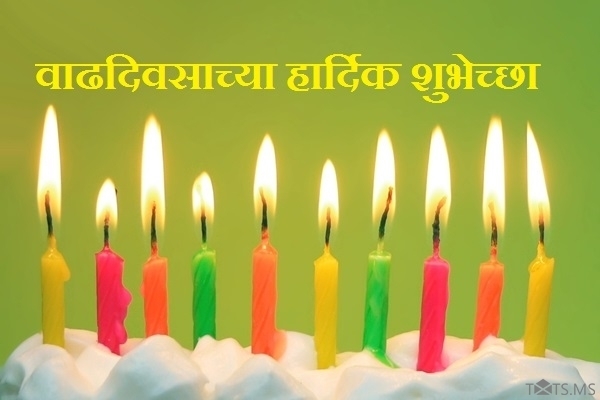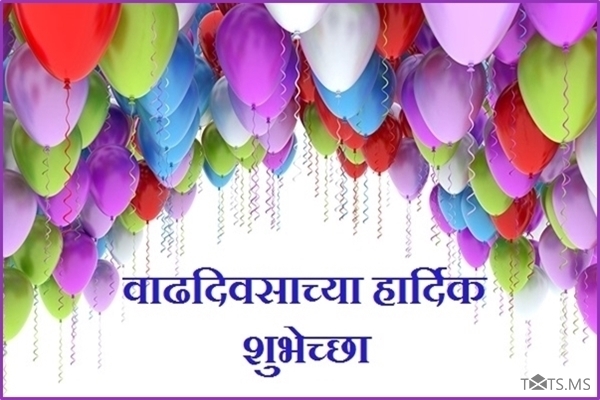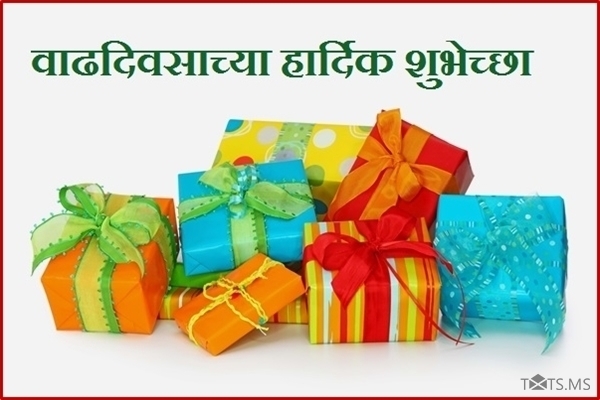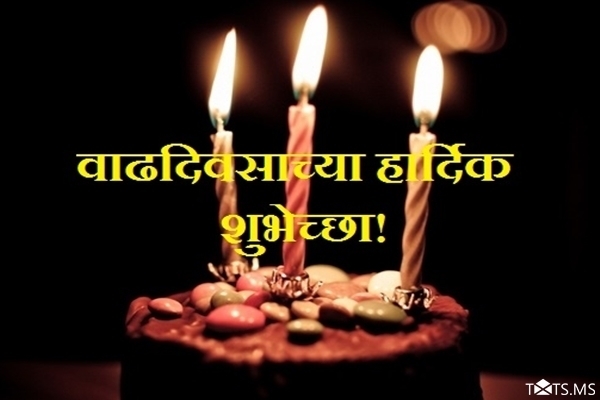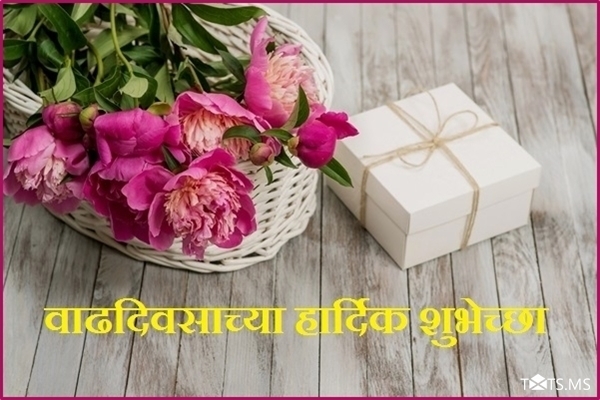 Party kara, kha, pya
Naach, gaane, fatake phoda
Pan vadhdivasachya ya paavan samayi
Mitranna hi vel dya ki thoda.
Happy Birthday.
Ishwar aapnaas dirgha aayushya devo
Va aapnaas jeewanaat je have te mile
Ya saddichhe sobar
Vadhdivsachya anek shubheccha.
Tumcha vaadhdivas khaas aahe
Kaaran tumhi aamche preranasthaan aahaat
Ya sukhi ani samruddha parivaracha
Tumhich tar khara maan aahaat.
Vadhdivsachya shubheccha.
Vhavaas tu shatayushi
Vhavaas tu dirghayushi
Hi ekach maajhi iccha
Tujhya bhaavi jeewanasaathi
Vadhdivasachya Shubhheccha.
Tujhya premane jeewan dile
Tuza vaadhdivas jara jaast khaas hai
Tujhyasobat nave aayushya jagnyachi
Manaat ek surekh aas aahe.
Vadhdivsachya shubheccha.
Tumi Ek Premache
Pratik Aahat,

Tumchya Mule Amchya
Jeevnat Prakash Aahe..

Tumhala Majya Kadun
Khup Khup Shubechha.

Karan Aaj Tumcha
Vadh-Diwas Aahe.

Happy Birthday.
Dua hai Ki Kamyabi ke
har sikhar pe aapka
naam hoga,

aapke har kadam par
duniya ka salam hoga,

Himat se mushkilon ka
samana karna,

hamari dua hai ki
waqt bhi ek din aapka
gulam hoga..